Learning2gether Episode 525

Navigation
Skip down to Day 1 of the GLoCALL Conference, Thu Dec 16
Skip down to Day 2 of the GLoCALL Conference, Fri Dec 17
Skip down to Day 3 of the GLoCALL Conference, Sat Dec 18
Skip down to Earlier Events that happened since the previous Learning2gther post
Live online workshop video URL https://youtu.be/4xUo98p6Sz0
The GLoCALL 2021 Virtual Conference took place from Thursday through Saturday December 16-18
https://glocall.org/
Permalink to the 2021 conference: https://glocall.org/course/view.php?id=32

Download this poster from the GLoCALL 2021 site https://glocall.org/course/view.php?id=32
Direct link: https://glocall.org/pluginfile.php/2665/block_html/content/GLoCALL-2021-flyer.pdf
Fri 17 Dec 0500 UTC Vance Stevens workshop on Tag games
As I always do in my presentation, I created a portal https://bit.ly/vance2021glocall
and created a mnemonic link shortener for my slides as well.
The slides have active hyperlinks https://bit.ly/glocall2021vance
I recorded a dress rehearsal video Dec 16, 2021 – https://youtu.be/TDjLtwBllfY
The workshop was scheduled as: Fri Dec 17 Workshop (55 minutes) 13:00 – 13:55 in Kuala Lumpur
https://glocall.org/mod/data/view.php?d=21&rid=633
Presentation title
Tag games: How to use #tags in professional and language development
Abstract
This session introduces the concept of #tags and empowers participants to exploit their power in professional and language development. The session presents examples where #tags are used in language learning, and by teachers pursuing professional development; notably by using them effectively at conferences such as this one.
There are often delegates attending conferences who use #tags to share content conference-wide with others following the tagged feeds, often in Twitter. The presenter will show participants how they can use #glocall2021 at this conference to share commentary across parallel sessions and create back-channels for discussion throughout the conference.
To illustrate, we play a number of "#tag games" to create a set of tagged objects that participants can retrieve instantaneously through techniques learned at the workshop. We then extend our games to show how this can extrapolate to language learning; e.g. a project where teachers around the world had their students blog content online, and then find one another anywhere in the world using the tag #writingmatrix.
Through exploration and using the tools to recapture what they have learned, teachers will leave the workshop with a greater understanding of tagging and its possibilities in language learning and in their networked professional development.
Promoted on Facebook, in posts tagged #glocall2021
Feedback on the session
Deborah Healey and I were in touch today, and I mentioned to her that
"You can hope to make a change in the world, but change in behavior is what you are looking for to see if your hard work has paid off."
One of the bullets on the next to last slide of my workshop deck, slide 9, says
We'll know you found this valuable when we find your posts tagged #glocall2021
Sharina was the GLoCALL docent for the session. She didn't play the tag game during the workshop, but I see now that she reflected and tried out the tagging technique the day after the workshop, posting on both Facebook and Instagram:
At this link, https://www.facebook.com/hashtag/glocall2021, anyone can find
and at https://www.instagram.com/explore/tags/glocall2021/
As Cristina Costa @cristinacost once told Etienne Wenger when he joined us in one of our WiAOC, Webheads-in-Action online conferences, when he asked her about her participation in the Webheads community of practice, how did she know when she was in a CoP? Her answer, "When I noticed my practice had changed."
Sharina commented at the end of the workshop that the session had been an "eye-opener" for her, and she has reciprocated with the most appreciated kind of feedback, evidence of change in practice.

Day 1 – Thursday, 16th Dec, 2021
 09:00 – 10:00, Deborah Healey gave a plenary workshop on Digital Storytelling
I posted the event on Facebook, tagged #glocall2021
with a screenshot from BBB (Big Blue Button)
Other plenary workshops on Day 1 were:
10:10 – 11:10

Workshop: The relevance on Nation's "Four Strands Model" to online teaching (Robb)

11:20 – 12:20

Workshop: Creating a 4-skills online assessment tool using the Moodle LMS (Bateson)

Day 2 – Friday, 17th Dec, 2021
All registered participants were sent this notice from the organizers, through GLoCALL Moodle portal
We would like to cordially invite you all to the opening ceremony of the GLoCALL 2021 conference, which is scheduled for tomorrow, Dec 17, 2021 (Friday), between 9.00 to 9.55 am (Malaysia time, GMT+8).  All presenters are kindly requested to attend the opening ceremony compulsorily and to join the session on time, not later than 9.00am.
Please note that this is a public event, and it is open to all invited guests as well. No username or password is required to join the virtual opening ceremony session (Opening ceremony access link provided)
This is what all delegates were kindly requested to attend:
This was followed by p

arallel sessions (I tweeted the first one)

and a

Plenary:

ICT in Malaysian Education: Trends and Challenges

(Wong)
My workshop by Vance Stevens was in the following set of parallel sessions, and was followed by
Fri 17 Dec 0600 UTC GLoCALL Plenary: Mark Pegrum – Going Global, Going Local, Going Mobile
I tweeted a few screenshots from Mark's plenary, all tagged #glocall2021: Going Global, Going Local, Going Mobile
This followed by another round of parallel sessions, including this one –
Language learning in immersive virtual reality: An exploratory study of Chinese college nursing students in a simulated operating room, by Junjie Gavin Wu

and a plenary: Social Media and the Innovations in research: Opportunities and Challenges (Krish)


Day 3 – Saturday, 18th Dec, 2021
The morning started with a round of parallel sessions
and then a plenary by Deborah Healey
Growing up Digital: Intelligent Use of Technology
The rest of the day was
14:30 – 15:55 Parallel sessions

16:00 – 16:25 – Closing Ceremony

Earlier Events
Fri Dec 3 1500 UTC – Vance Stevens interviewed at the start of Eduverse Online Festival
https://learning2gether.net/2021/12/03/vance-stevens-interviewed-at-the-start-of-eduverse-online-festival/
Sat-Sun 11-12 Dec OpenSim Community Conference
https://conference.opensimulator.org/register/?mc_cid=c6d2f053df&mc_eid=b25185f014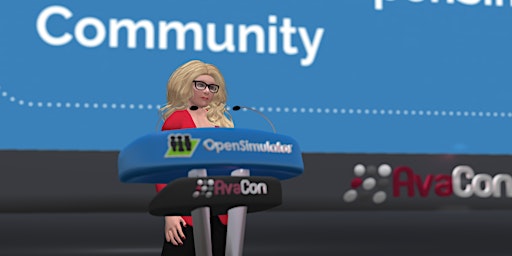 Once registered (there is a free option) See the Login Info page for instructions and more information about how to connect to the grid. https://conference.opensimulator.org/login-info/
LOCAL ACCOUNT LOGIN
After downloading and installing the  64-bit Firestorm viewer , it will need to be configured to connect to the OpenSimulator Community Conference Grid:
Launch the Firestorm viewer
Click the Viewer->Preferences->OpenSim button at the top left of the screen
You will see a 'Add New Grid' field.
Paste this link into the field:  http://cc.opensimulator.org:8002
Click the OK button
Now that your viewer is configured to connect to the OpenSimulator Community Conference grid, you should be able to log in with your local account information.
Enter your FULL AVATAR NAME in the Name or Username field.  This should be your First and Last Avatar name, separated by a space.  Example:  Jane Doe
Enter your password that was emailed to you when your account was created.
In the Grid pulldown menu, select the OpenSimulator Community Conference grid
Click the Login button
You should arrive at a Landing Zone region with maps and signage to attend the conference.
I arrived in random female body parts, but Mary passed me a schedule, https://conference.opensimulator.org/schedule/
Morning in Malaysia, but night time in at the OSC, so Mary suggested I visit a musical event
Hmm, breakfast or dancing … I opted for the former
Anyway, clear and easy setup instructions and friendly and personalized meet and greet. I'll check back later.
Meanwhile, here's the program for Sun Dec 12
Start time the next day was 11 pm here in Malaysia 😦
End of screenshot, but there's more of course.
Meanwhile, some feedback …
Tue Dec 14 1800 and 2000 JST – Raquel Ribeiro and Karen Price on AI, the language teacher's friend or foe?
More info and registration at https://www.tiltal.org/ (but SOLD OUT!)
___________________________________________________________
This blog is written and maintained by Vance Stevens
You are free to share-alike and with attribution under https://creativecommons.org/licenses/by-sa/4.0/

The date of this update is December 24, 2021 00:00 UTC